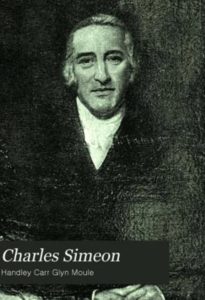 This is Pastor Charles Simeon.
He was one of England's greatest preachers of the late 18th Century. But his congregation didn't agree that he was!
Charles pastored a difficult and turbulent Holy Trinity Church (Cambridge) for an amazing 54 years!
They were amazing 54 years because some of his congregation wanted him fired. They did not appreciate the un-watered down Word of God which he preached.
At first they removed all of the pews from the church hoping that no one would come on Sundays without a place to sit.
Undaunted, Pastor Simeon brought in chairs for persons to use instead of pews!
You may not be a pastor. But as a Christian you have your own unique ministry. And ministry of any sort, by its nature, requires great persistence.
2 Timothy was written to a young pastor named Timothy.
But we have the book in our Bibles because it's message is pertinent to all 21st-century servants of the Lord.
"But you, be sober in all things, endure hardship, do the work of an evangelist, for fill your ministry."
(2 Timothy 4:5)
To God's glory, outlast your opponents. Don't quit.
Bring in some chairs, if you have to!