Pastoral Staff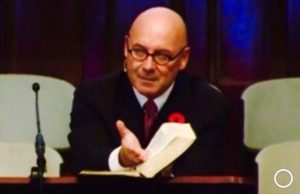 Robert E. Elliott
Sr. Pastor-Teacher
Pastor Rob Elliott became Calvary Bible Church's Senior Pastor-Teacher in March of 2015.
He has been happily married to Beth (Whisenhunt) for 40 years. They met while they both were students at Dallas Theological Seminary.
Pastor Elliott & Beth graduated Seminary together in 1987. Beth being granted her Master of Arts in Biblical Studies (MABS) degree & Pastor Elliott being granted his Master of Theology (ThM) degree with a major in Pastoral Ministries.
The Lord has blessed Rob & Beth with daughter Joanna (residing in Toronto, Canada) and JD (Residing in Nassau and

Online studying at the Gateway Technical

College, Racine WI USA

).
Pastor Elliott's employment background prior to pastoring includes assisting in his family's Funeral Homes in Toronto; delivering mail from a corporate mail room; selling retail sporting goods; being an estimator for a painting contractor; owning and operating a lawn maintenance & snow plowing company; waiting tables & training wait staff in a restaurant in Dallas, Texas.
Prior to coming to minister in the Bahamas, Pastor Elliott pastored two Associated Gospel Church (AGC) congregations in Ontario, Canada. These two Canadian senior pastorates spanned 20 years.
He also provided AGC denominational leadership at the regional level for Canada East.
Pastor Elliott served as the senior pastor of the Milford Bible Church 2008 – early 2015. Milford, Pennsylvania is located in the Delaware Water Gap tourist region in the Pocono Mountains one and a half hours north west of New York City.
During his time in Milford he became an American citizen to be able to enjoy dual citizenship Canadian / American. It was also during this time that he wrote his book, Disciples by Design.
He has ministered the Word of God in Antigua, Thailand, India, the USA, Canada, Israel and now in the beautiful Bahamas.
Pastor Elliott enjoys Facebook, gardening, SCUBA diving, snorkeling, history, tennis, golf, hockey, baseball, humour, photography, shelling & making rings from beach shells.
He uses these bridges to enjoy time with the lost in order to earn a hearing for the good news of salvation from sin being in Jesus Christ alone. He is an evangelist at heart.
His expository preaching was recognized as a senior at Dallas Seminary.
He was the first alternate to the final 4 preachers who were in the running for the annual Harry A. Ironside Expository Preaching Award.
Pastor Elliott has the passion to make the Word of God known in such a way that the glory of Christ may be clearly seen. One of his life goals is to preach or teach through every verse of the Bible. By God's grace, he currently is about 70% of the way to that goal.
A few of his favorite preachers are Joel Gregory, Alistair Begg, Walter Kaiser Jr., Stanley Toussaint, R.C. Sproul, John MacArthur & Joe Stowell III. Pastor Elliott's preference is to exposit God's Word week by week, verse by verse, chapter by chapter, Book by Book. This let's God raise the sermon topics & it encourages God's people to the proper conclusions that the Bible is a revelation & not a concealment and that THEY can observe, interpret & apply the Word as THEY apply themselves in dependence on the Holy Spirit. Pastor Elliott is heard on ZNS 1540AM, the National Radio Station of the Bahamas on Sundays @ 7:30AM on "The Echoes of Calvary" programme.
Under Christ as Lord, Pastor Elliott desires to servant-lead the Incredible Body of Christ called Calvary Bible Church, Nassau Bahamas to in

MAKING FULLY-COMMITTED FOLLOWERS of JESUS CHRIST of all ages

by coaching a church-wide, simple discipleship process which moves believers from Loving THE LORD (The Sunday Morning Worship Service) to Loving ONE ANOTHER (Small Groups) to Loving THE LOST (Sharing the Gospel).
When you visit Calvary Bible, please be sure to introduce yourself to Pastor & Mrs. Elliott! They will be delighted!
Pastor Elliott's Email is pastor.rob.elliott@gmail.com and Facebook page is facebook.com/rob.elliott.73
Anthone Wallace
Music and Worship Pastor
Anthone is the fifth of six children, and only son born to Perry and Marjorie Wallace. It was during his early education years that his interest in music began to blossom. As his gift for music was determined early in life, he was afforded a scholarship just before his high school senior year to further enhance his musical skills by attending the Interlochen Arts Academy (Michigan) summer camp.
Raised with Christian values, Anthone received Jesus Christ to be his Lord and personal Savior when he was a boy. At thirteen years old, he became one of the founding members of the Gospel music group, NU Generation, and began to develop an interest as a songwriter. His desire for serving the Lord became more evident as he became involved in various church ministries. However, his greatest contributions were made in the area of music ministry as a choir director and worship leader. His appreciation for music ministry extended to directing the United Choir of the Assemblies of Brethren (Bahamas).
In February 1999, the Lord provided the opportunity for Anthone to join the staff at Calvary Bible Church as the Minister of Music and Worship through the encouragement of Senior Pastor Emeritus Allan R. Lee, with whom he served for nearly fifteen years.
Under the oversight of the Sr. Pastor and in collaboration with the Music and Worship Committee, Anthone is responsible for the overall music ministry of CBC. This includes worship service planning, worship leading, music education, administration and promotion.
Primarily, the main goal is to develop a music ministry at every ability and participation level that trains and challenges God's people toward excellence, and enhance the musical expression of the church through blended worship.
For three years (2016 – 2019), Anthone underwent ordination training conducted by Sr. Pastor-Teacher Robert E. Elliott, and was ordained as a pastor on January 5, 2020 through the laying on of hands by other pastors of Calvary Bible Church.
His life verse is Galatians 2:20 – "I have been crucified with Christ: it is no longer I who live, but Christ lives in me: and the life which I now live in the flesh I live by faith in the Son of God, who loved me and gave Himself for me."
He and his bride, Marissa, were married for eighteen years and are blessed with three beautiful children – Anna, Jude and Kayla.
Jory Nunn
Discipleship Pastor
Jory was born in Montana to Jess and Rita Nunn. He spent much of his adolescent years hunting, fishing and generally any outdoor activities.
After moving to Alaska in 2001, Jory and Mary Anne met while working together at a fishing lodge in the community of Thorne Bay where Mary Anne grew up. They were married in the spring of 2002 and now have 4 children – Josiah, Anna Maria, Esther Mae & Mirah.
After 2 more seasons of fishing, Jory completed his training to receive his commercial aviation certificate. It was during this time that The Lord arrested him, bringing him to salvation in Christ.
In 2012 The Lord, through many providential circumstances and affirmations of the local church leadership, called Jory to study at the Master's Seminary (founded by Pastor John MacArthur) in Southern CA. Jory graduated in 2016 and the family moved back to Alaska to pursue missions within the interior to the indigenous peoples there, utilizing his giftedness affirmed by the local church of teaching and preaching the Bible.
After leaving the mission field in the fall of 2018, Jory and his family lived in Soldotna, AK serving a local church and working within the community for the next 4 years. Desiring to return to full-time ministry, Jory connected with Calvary Bible Church through an ad placed on The Master's Seminary website. As time has revealed, The Lord called Jory to be the Discipleship Pastor at CBC.
Living now in Nassau since August 2023, Jory is working with the Pastors and Deacons of Calvary to develop the Church's newly adopted Simple Church Model. Jory's primary role in this endeavor is to strengthen and grow the small group component of that model with the end goal of seeing God produce fully committed followers of The Lord Jesus Christ.
Jory's hobbies include, anything on, in or under the water, pickleball and making pizza.