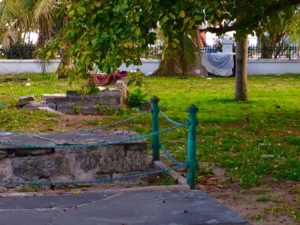 In the foreground of this picture we see a stoned over grave. In the background we see a makeshift shelter for the homeless person.
This reminds us that there are at least two varieties of death: Physical death and spiritual death.
Death is separation.
Physical death is the separation of the human soul & spirit from the body.
Spiritual death is the separation of the unconverted person's dead spirit from any relationship with God.
It is very typical that otherwise very much physically alive persons are at the same time very much spiritually dead!
Ephesians 2:1 & 4-5 –
"And you were dead in your trespasses and sins … But God being rich in mercy, because of His great love with which He loved us, even when we were dead in our transgressions, made us alive together with Christ (by grace you have been saved) …"
Which are you? Spiritually dead or spiritually alive?